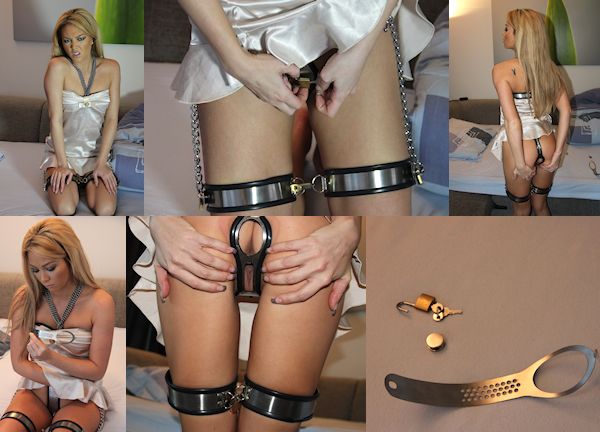 THIS UPDATE WAS SHOT ON DAY 3 OF NATALIA'S FULL CHASTITY CHALLENGE
After more than 2 days of hearing how horrible a full chastity outfit is, and how much it hurts, and how mean we are, we decided to let Natalia have a cleaning break. But what about the contract? It said '5 days without breaks'! Well, don't worry about that, we have a little trick up our sleeve!
We gave Natalia 1 little key, it will only open the lock on the secondary shield. The rest (high security chastity belt, chastity bra, thigh bands) will remain locked on. Initially, Natalia was very happy that her whining and nagging had finally worked. Until she found out that the secondary shield only consists of the perforated holes covering the vaginal slot. Removing it gives her some cleaning access, but not nearly enough for Natalia. She wants the whole belt off for cleaning! And that's not going to happen.
So unfortunately, our nice gesture was not appreciated, and Natalia just keeps whining during the whole video (just like you know her). She did take a shower, however, and then we locked the secondary shield back on (because it is very effective to protect certain areas from curious fingers). The video does have one of the best end shots (literally) you have ever seen in a chastity video clip, we promise! Go watch it now!
Remember the Chastity Deal updates are not shot in a studio so picture quality may vary. Member pictures and videos are not censored in any way. Also, we would like to point out that this deal was done under supervision and contract. Please do not lock someone in chastity unless you can watch them and care for them 24/7. Natalia made it and is doing fine now. Thank you for your concerns.