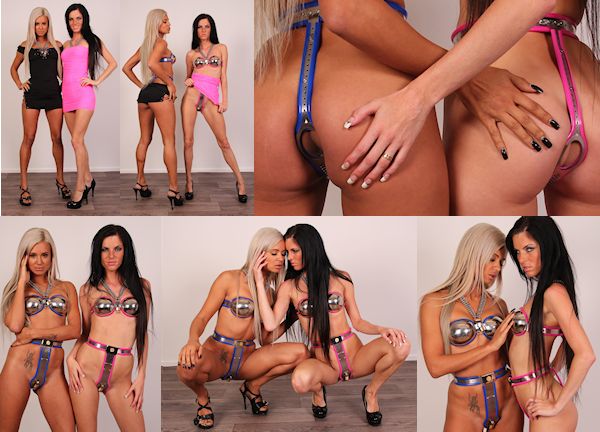 After proving there is no reason at all not to wear a chastity belt (yes, you can do all sports / yes, you can hide it perfectly under clothes / yes, you can wear it 24/7), the final complaint is a very weak one, but we hear it a lot: 'I don't like black, the black lining does not go with all of my outfits'. Sigh… girls :)
Today we will show you there is fashion in chastity. You can choose from all kinds of lining colors, even very girly colors if you want. We invited the very sexy Ashley Bulgari to model a blue lined high security belt and chastity bra for you. And as a bonus, Ashley brought her friend (and new Chastity Babe) Eileen Sue to model the most popular color lining: candy pink!
A little strip tease from this duo makes sure you get a full view of the perfectly adjusted belts and bras. The sexy duo gets really excited, good thing they were wearing chastity gear! We are proud to present this update, as we have never seen chastity fashion modelled by two top internet models before! Blue and pink are the new black, let's hope next summer the beaches will be filled with girls in these outfits!