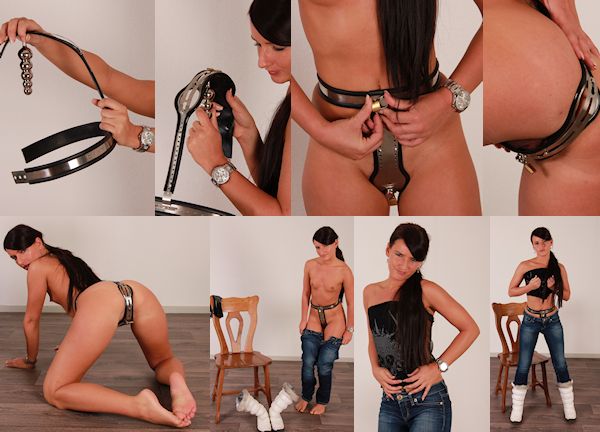 Please welcome our newest Chastity Babe: Sita! This 21 year-old emailed us to see if there was some money to be made by doing a chastity belt casting. No problem, we said! We added (jokingly): there's even more money to be made if you do a plugged casting! We did not expect her to be interested, since it has proven very hard to find any girls for plugged beltings.
'Sure! That sounds like fun!', was Sita's answer. We were amazed. This girl had never touched a chastity belt, and now she wanted to go at a plugged casting on her first belting experience! We did not waste any time (before she could change her mind) and we prepared a tightly measured belt, with a solid stainless steel plug. The plug is very heavy, weighing over 500 grams, and it is 16cm long (3.5cm at its widest point). Sita's belt was designed to actually hold 2 plugs, but for now we are only plugging the vaginal secondary shield.
Watch in awe as young Sita plugs and locks herself in her chastity belt… you can actually see the plug moving back and forth as her body position changes. This cleverly designed belt allows the plug to slide, so it can be used in all daily activities! We told Sita to get dressed after this casting, because we wanted to take her to a big space where she could experience walking around, a very interesting sensation (as you will see in the next part)!!
Sita was so brave, even though being plugged and locked takes a lot of getting used to, within a few minutes of locking herself she was already putting on tight jeans, sitting down, bending over, and more! This girl could be up for a plugged contract! That would be a first!