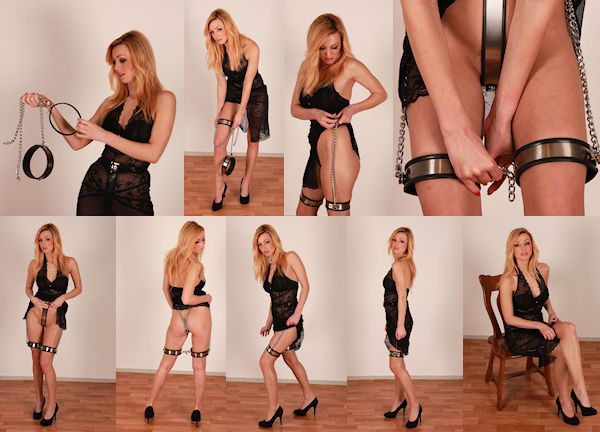 Whatever happened to Dominique!? Well there is some bad news and possibly some good news. Dominique did NOT renew her contract in September, even though her mom Francis (and most members) wanted her to. She fell in love and wanted to meet this guy without her belt. Francis eventually agreed, if this was the love of Dominique's life then a chastity belt would no longer be necessary.
But now Dominique is single again, no boyfriend (that did not last long), and no job. In her small village, she is by far the most beautiful girl. All the guys want her, and Dominique goes out a lot. So Francis is worried again. But she can not force Dominique to wear a chastity belt, it can only be done by mutual agreement, like last time.
We have told Dominique and Francis that their story was very popular here, but they never seem to take a look at this website. Dominique however, seems to be interested in another contract, but only if she gets a lot of money for it. She desperately needs cash, but she will not sign for a year, the maximum would be a renewable contract of 2 months. We are currently discussing details, if we go ahead we want this contract to be a lot better than the last one. More opportunities to film and photograph, a brand new tight custom belt, and some punishment / rewarding clauses. Also, the supervised cleaning and shaving procedure should be improved, possibly restraining Dominique's wrists and ankles during the cleaning. We are 100% sure Dominique got some satisfaction during her belted period, making it easy for her, and we don't want that to happen again!
Anyway, in the meantime, please enjoy this test we did when Dominique was still belted. We invited her (in a long dress) to see if the thigh bands could be worn with a slightly longer chain. We tested visibility, walking ability, elegance, sitting lady-like (crossing legs), and more. It is still amazing to see Dominique in her belt, and we hope she will be locked again soon!!