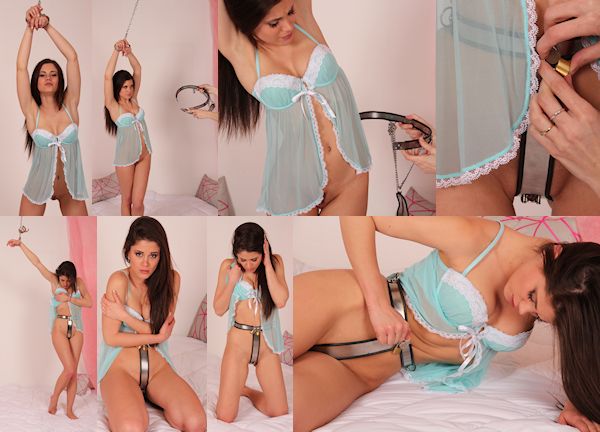 So you wanted Little Caprice?! Well, we got her! Because we know that is kind of hard to believe, maybe a brief explanation is in order: of course this famous teen star (google her!!) was not going to let us belt her, it was already hard enough to contact her. So we booked her for an 'erotic shoot that may or may not involve a pair of handcuffs', and after about 100 emails she finally appeared in our studio!
Once we had the incredibly cute Caprice handcuffed to the ceiling, there was nothing she could do to stop us from locking a chastity belt on her. Don't worry: we checked, it is only illegal to restrain someone against their will. The clever part was that she had agreed on the handcuffs, and the chastity belt is technically not a form of restraint!
Well, as you may expect Little Caprice was not really interested in the technical explanation. But she was now locked in the chain style chastity belt (double padlocked). It was tight enough to make her labia protrude through the primary shield, you can see them caged behind the secondary shield if you look closely. We were nice enough to unlock the handcuffs right away, so she could investigate her predicament.
We had a whole afternoon of shooting ahead of us, so there were many more things we could do to Caprice. Stay tuned for more Caprice soon, you may be surprised at how this adventure turned out!