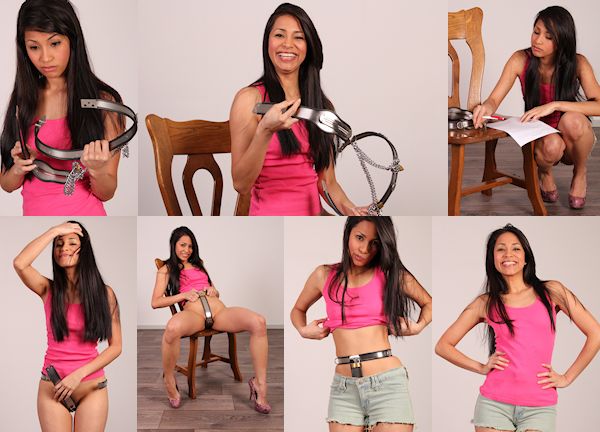 Welcome Ruth to ChastityBabes.com! The first latina girl ever to be belted on the internet (at least, we haven't seen any before), and certainly one of the funniest! Ruth emailed us she needed some money and a small deal would be very welcome. Just a tiny deal. For some cash.
So we invited her over for a casting, but Ruth did not expect to be belted right away. We wanted to shock her by presenting her with a chastity belt AND a contract right on our first meeting. Ruth looked at the belt with her big brown eyes, laughing because she did not know how she felt about it. She was scared, amused, intimidated, bold, and feeling adventurous all at the same time!
Ruth did not even take her time to read the contract, we could have written anything on the piece of paper, she just went on to remove her clothing (she was not wearing any underwear!!) and locked the chain style chastity belt on herself.
What did the contract say? Well, she would not get out of the belt for 48 hours (a short term indeed), but she can not make it easy for herself by staying indoors for 2 days. She HAS to go out in public, shopping, doing her daily things. No hiding indoors, we hate that! And for the nights we put in a special clause ;) Wait and see!!