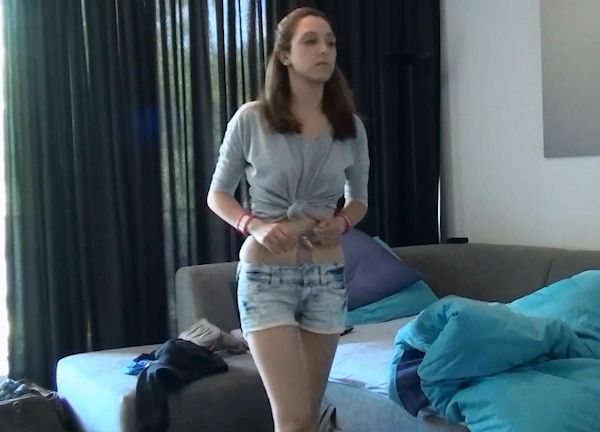 THIS UPDATE WAS SHOT ON DONNA DAY 29 (MAY 31st)
On Donna's last full day in chastity, we decided to fulfill another member request: we locked Donna's wrists to the side D-rings on the belt for the whole day (until bed time). It was really interesting to see her in this limited mobility predicament. Even sitting on the bed or typing on the laptop became a very very hard task for poor Donna. But she does look cute in her little locking pink wrist cuffs!
That being said, we probably took it one step too far. This is bondage. Donna did not sign up for this. She did not enjoy this day at all (look at her expression) and all she could think about was her release, planned for the next day. In future chastity deals, it is not very likely we will do this again. Just denying a girl access to her own private parts (belt and bra, optional thigh bands) will be more than enough. This is not a bondage website, and we hope this update will not stop future candidates from applying for a chastity deal.
Our reports of Donna's deal are coming to an end! It was a very very interesting experience to have her over for 30 days. We hope you will enjoy this final update of Donna in her belt, next week we will show you the unbelting and some questions we asked Donna after the whole deal was over! Stay tuned!
Remember the Donna updates are not shot in a studio so picture quality may vary. Member pictures and videos are not censored in any way.