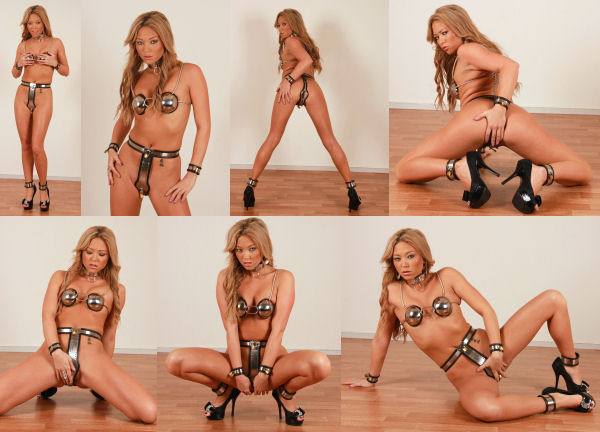 We locked Natalia Forrest in a lot of metal again! Which is ironic since she is a well known glamour adult model. Natalia is clearly not used to this situation, she really wants to be able to touch herself. Now she can not reach any of her own fun zones, there is a chastity belt and a chastity bra in the way!
The look of metal on bare skin is just amazing, especially when all the metal is locked and secure. In addition to locking away her private areas, we also added chastity style metal for her neck, wrists, and ankles. This makes for a great photo shoot, and Natalia even sees the beauty of it… for a few minutes. The metal soon starts to annoy her, frustration sets in and after about one hour we think she would have done anything to be released. Still, she was locked in these restraints for over 3 hours… a real challenge for this hot little blonde.
And then we mentioned this is not even a full chastity outfit. There is an important bit of chastity gear missing. Natalia could not work out where this last item should go. Next time it will definitely be added, to restrict her even more. Can you guess what it is? Will you post the answer below so she can read it or will we keep it a secret for her?