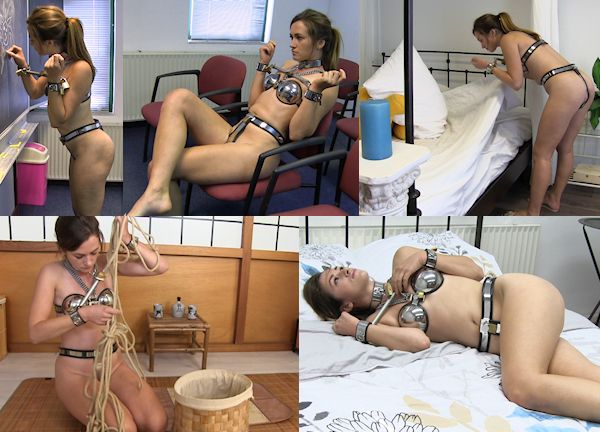 After locking Tess in her belt and bra and collar, I added a small spreader bar to make her life a bit harder. She still had a lot of hours to go in her chastity gear, so she wandered around the studio to help me clean up things and sort some ropes. Not easy in a spreader bar!
Tess was a great help though, she was trying her best all afternoon and she never complained once about the spreader bar. It was great to see her manage her tasks with her wrists locked to her neck. She made a drawing on the black board, she made the bed, and she untangled some ropes. All in full chastity gear and a mini spreader bar!
I don't know why she was trying so hard, or why she returned after all these years, but I suspect she is fishing for a long term Chastity Deal to make some more cash. I think she should get one, with a LOT of Challenges, as she seems to deal with her tasks very well. Can't wait to have her back for a longer period of time to really test her!