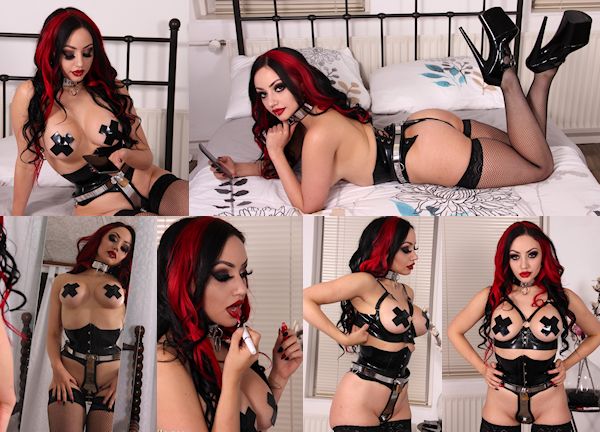 One of the best fetish models in the world emailing me if she can be belted again is such a great feeling! Dani Divine is a huge name in latex modelling, but no one actually knows she loves bondage and chastity belts a lot! She never gets to shoot this because everyone books her for latex pictures, so she was very excited to make a little Deal with me.
Dani always dresses in spectacular outfits and she had this idea of being in a super tight corset AND a chastity belt. The corset pulls her waist in so much, the top of the chastity belt waistband is not even touching her! Don't worry though, as you can see, the belt can not move down. I know these pictures will get spread all over the internet (Dani is so famous you can't stop that) and people will say the belt wasn't tight. They're wrong. It was very tight, it only takes a close look to figure out why.
Dani is wearing her awesome latex corset, and open latex bra and of course I had to lock a collar on her as well. She signed a mini-contract for an afternoon (6 hours), a nice little Challenge for her because that meant she was also going to be in her extreme corset for that long. Remember Dani is corset trained though, so she did not really have any problems. The belt was of course a different issue. She had to get used to that, but there was plenty of time.
Dani took her time walking around in her towering high heels, playing with her phone and doing her makeup. She seemed so comfortable! Little did she know that I had planned a little extra bondage for her later during the afternoon, and she signed the contract without realizing that! Needless to say I was very excited to break that news to her!
"This belt is not tight!" – Yes, it actually is, have a closer look!