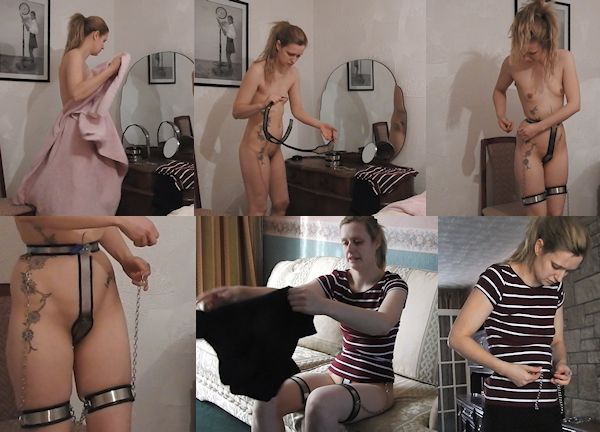 After a quick hygiene break, Sam was going to have to put her belt back on since she wasn't even halfway her 24-hour Chastity Deal. The walk in the tight belt had made her realise how difficult it is to move around in a properly fitted belt, but things would get worse.
The photographer had laid out some thigh bands when she came out of the shower, and Sam knew she would have to go out again. The photographer seemed to have way too much fun challenging her to go outdoors. A tight belt and thigh bands for her first ever experience in a chastity belt, and then go in public… Sam mumbled 'I certainly not expected to be doing THIS when you invited me over!'
After sealing her belt again, Sam locked her thigh bands to her belt and immediately found it was very awkward to walk in them. But there would be no more breaks, and she could not give up now. Sam struggled to get down the stairs without tripping, as the photographer filmed her bravery. Downstairs, she encountered even more problems, trying to put on her skirt, and especially her shoes, was a challenge on its own!
The photographer then told her to lock a small chain on her waist, just to symbolize to people she was belted. And they were going to meet a LOT of people, because he was taking her somewhere by TRAIN! Stay tuned for Sam's public adventures!