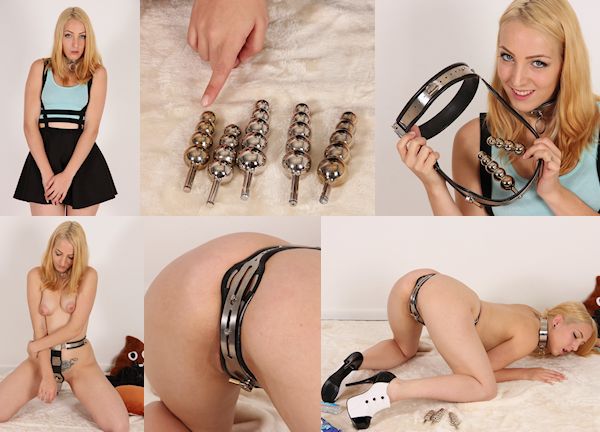 Meanwhile in Holland, Liz Rainbow from Spain came over to take the Double Plug Challenge! She was so confident she could do it, I really like her a lot! When she was in my studio, we adjusted a chastity belt to her size (tight) and put a double slotted secondary shield on it.
Now Liz was ready for her Challenge: I laid out some of the heavy plugs for her, with a choice of 5-ball and 4-ball, some with longer bases so the balls go in deeper. She was completely free to choose two of them… or even one of them if she had second thoughts about the anal plug. Liz picked a long base 4-ball for the back and a shorter base 5-ball for the front, basically the same configuration as I used on Julia! These plugs are solid and heavy, and two plugs will fill up a girl really good. The weight makes sure she will feel them all the time. Liz is a brave girl! This was supposed to be a Casting, but she went for double plugs the first time I met her!
Now it was time for her to assemble her belt and clean the plugs. Liz then proceeded to belt herself, taking her time to ease in the anal plug. It's very hard to put on a double plug belt, but amazingly Liz did it without much trouble. Once locked, she went a bit quiet. The feeling was overwhelming and Liz had to take some time to get used to the heavy plugs inside her. There was no way to get them out without the key. And as I took the key from her, Liz did not even protest, she was just trying to get comfortable. I left her alone for a while, so she could get herself together again. Liz is a hero already! We had a great afternoon, and there was another Challenge to be added, so stay tuned for more awesome double plugged action!