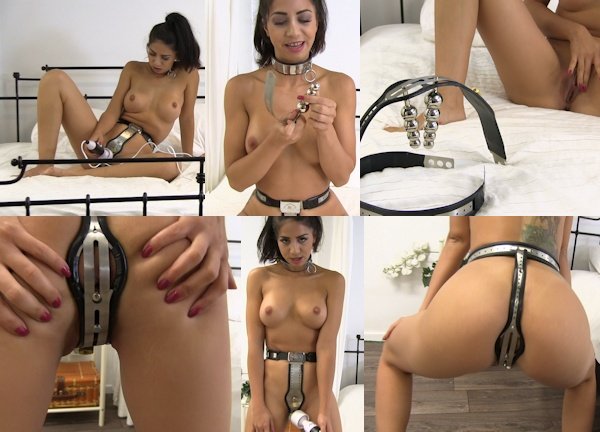 Julia is amazing! I assure you, you have never seen a girl so happy about getting double plugged. "Let's do it!", she says when I show her the double slotted secondary shield with a 4-ball plug. I don't have to tell Julia where this plug is supposed to be going, this girl is naughty!
This Casting turned into a Challenge when I saw how easy Julia can move around in a plugged belt with a big 5-ball vaginal plug inside her. She was having a great time, getting all horny, dancing, shaking her ass… I just knew I had to make another upgrade to her belt. I left her on the bed, still plugged, with a big magic wand vibrator to play with. She could feel some of the vibrations in the plug and it was making her horny and a little frustrated.
But Julia never asked me to take the belt off. And I don't think she ever would. She enjoys being belted way too much, especially if there's plugs involved. The belt had to come off though, because we had to switch out the single slotted shield for the double slotted shield with two plugs. Even in that short time when she was unbelted, Julia couldn't stop touching herself. So I tried to be as fast as possible, getting the belt ready again for her to put it back on.
Five balls in the front, four in the back, the belt really slid in place very easily. Considering it is not easy to get into a double plugged belt, because of the angles of the plugs, Julia did an amazing job! She was locked back into the belt in minutes. Now she was double plugged and even Julia was surprised about how full she felt. The plugs were pushed into her by the tight belt and she felt them go in and out slightly with every move.
Julia just keeps amazing me. She jumped off the bed and started shaking her ass, and doing squats, because "that feels really good". She also tried vibrating both plugs and she squealed with joy. What a girl… so naughty! Remember, this is her first time ever in a plugged belt! Julia is a natural Chastity Babe. She should be double plugged for life!