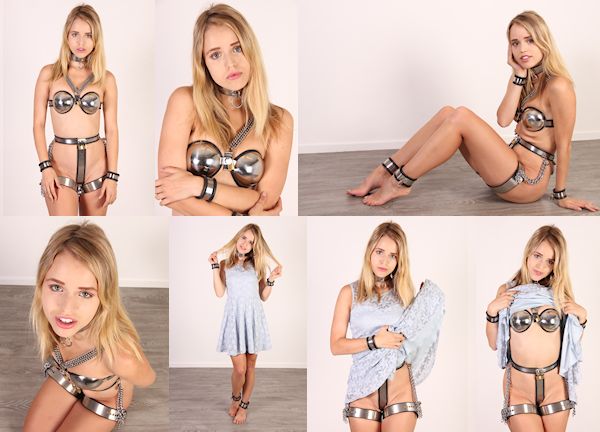 Wow, remember this girl? Maybe the cutest girl ever on this website? Her name was Rosie, she was from the UK, and she did this Casting back in 2014. That was one of the most popular updates at the time. Unfortunately, her health wasn't great at the time, and even though she had fantasies about a Chastity Deal, we couldn't make it happen, it would be too dangerous.
But now, almost 3 years later, Rosie asked for another chance. She is in perfect health now, and she is still as cute as ever! Her big eyes and sensual mouth are just so perfect in combination with her longing for submission. She wants to do more bondage, and more chastity, and she is ready now! I didn't hesitate, I invited her over for a new Casting, just to see how she would hold up in full chastity (again).
Rosie did great, she was eager to hear all about the opportunity to make some cash with a Chastity Deal, and she moved around in a tight belt, chastity bra, thigh bands, collar, and cuffs as if had been training for this moment all of her life. I'm so glad she is back!
Let's see what I can offer her, maybe a weekend to start with (3 days)? I don't think we can introduce any plugs yet, but full chastity with thigh bands is already a big challenge for her! She wants some creative bondage too, and she asked to be chained by her collar most of the time. I think I can make that work. If you are a member, don't hesitate to send in your suggestions for Rosie, or comment below! Take it easy on her, she is a bit shy and we don't want to scare her away now she has come back all by herself.