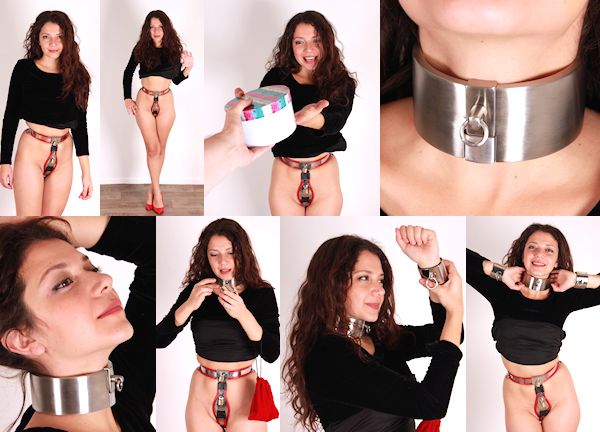 So you have seen my studio assistant Anahí in the holiday Deal with Natalia Forrest (and also briefly at BoundCon in this video). This cute Mexican girl now works for me in my studio, hosting models, photographers, fans (for meet and greets with Chastity Babes), and chastity enthusiasts (who want to purchase a belt). She is also a set dresser, painter, cleaner, and much more! Last but not least, she takes care of resident pet slave Davon when I am not there. A good assistant is worth gold, and Anahí certainly is the best and sweetest assistant ever!
In Madeira, on the holiday trip, we found out she was a perfect fit for Donna's old red My-Steel belt. It is super tight on Anahí and there is no way she can even get her fingers between the belt. She loves it! And that's a good thing, because from now on, whenever she is working in my studio, she will be locked in this belt. It keeps her focused on her tasks (I hope) and it will also help to reassure new models, seeing another girl already belted.
This is her formal introduction to you (the members) and you will absolutely love her energy and sparkle! In this video, I surprise her with a custom made high security collar and custom made wrist cuffs. Anahí will also have to wear these items when she works for me. This means I can cuff her to anything (even to the sides of her belt), and connect her collar to anything, to keep her focused on her tasks.
Please don't think it is slavery or abuse of an employer-employee relationship, feel free to ask Anahí whenever you see her, she will tell you she absolutely loves to be locked in this metal gear! She is even thinking about accepting another Deal soon, so she can wear the belt home, and be challenged to see how long she can go without touching herself! She is so much more kinky than she looks :D If you have any questions for Anahí, post them below (I will publish her Twitter and email a bit later).