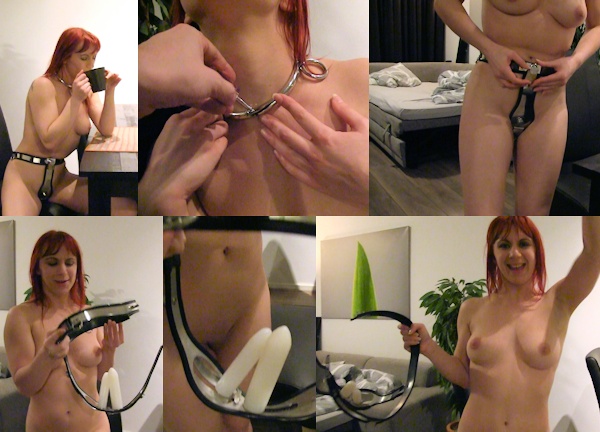 The next morning, it was such a sad moment for me: Lola had won this Challenge and Chastity Deal and it had seemed almost too easy. I know it wasn't easy, because I have tried with other girls before, but Lola was a real trooper. She happily wore two big nylon plugs in her pussy and ass for three days!! Mind you, she could have stopped and have been released at any time (like in all Chastity Deals), but then she would not receive her cash prize.
Chastity contracts are evil, I know, because once you have started (let's say 24 hours), you really can not give up anymore or you will have spent time in a chastity belt with no rewards and nothing to show for. Especially in the longer Deals, if the girls are not working their day jobs (most often nude modelling, which is impossible in a belt) or are spending their Chastity Deal abroad (in the Amsterdam apartment), it is even harder to give up, because everyone needs to make money. Not many people can afford to take a month off just to hang around in a chastity belt.
Lola was only here for 3 days. And she flew back to the UK with her cash prize. There was never any doubt she wouldn't make it. I tried dangling the keys in front of her a few times, but she wouldn't take them. We had a great time, she is so much fun and a very lively and bubbly person. She is unable to sit still, which means her constant moving must have made the 2 plugs a very interesting sensation.
I was proud of her! She deserved to be unbelted and unplugged. But next time, she won't get such an easy contract from me. Not Lola, she can take a lot more than this, so let's hope she will be back and let's think of something that will REALLY challenge her!!