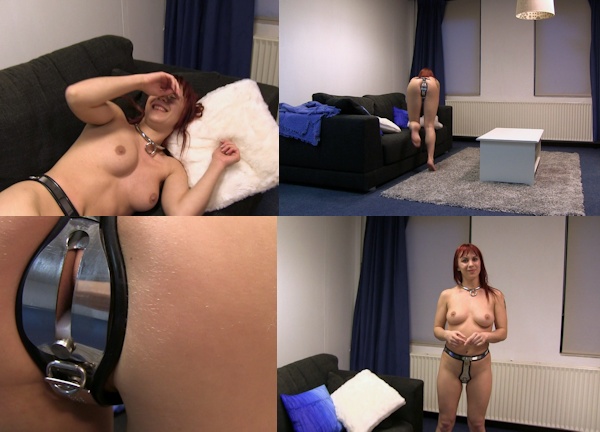 Lola is so incredible! She's a little giggly and she can't stand still for a second, but that makes her even more cute! Also, she does not like to wear clothes (always good), and she has a lot of experience with collars and plugs, as she tells us in this update.
A 72-hour plugged Chastity Deal is just 3 days, and you'll get a nice apartment, and all the food and peace you need (wifi too!). Oh and you'll be in a tight chastity belt with two large plugs inside of you. No problem for Lola! She wiggles, dances, and moves around without any problems. She loves plugs! It looks so easy for her, that I asked her to bend over to see if the plugs were still there. Of course they were. The anal plug is very clearly visible, the vaginal plug is harder to see under the secondary shield, but it's there!
Lola even planned to do some exercises later, but for now she just crashed on the couch, completely naked, still giggling and shaking her ass. She realises she is just at the start of the Deal, and the 3 nights may be a little hard, but she is very determined to get through all this and get the cash prize! After all, she can not stop now, or she will have done this for nothing.
I'm looking for more girls to do a double plug Chastity Deal. If you think you can do it, don't hesitate to write me! Just watch Lola's videos to see how much fun she is having, and she is getting paid too!!