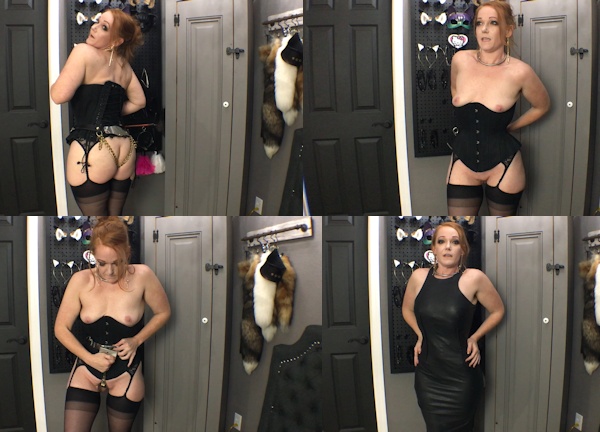 Kitty wanted to share with you the whole process she goes through when she's getting ready to go out! Very interesting to see what she has to do to get ready.
She changes her belt to another type of FancySteel, but not before tightening her corset A LOT! Her corset and the belt will make her body very rigid, and she will be elegant with a perfect posture when going out. I imagine it's not easy to bend over though! This is quite severe and rigid, and it's great to see Kitty talk about it like she is completely used to this regime. She knows exactly how to dress in layers so no one will ever know she is wearing a super tight chastity belt and corset.
First, she takes about an hour to do her hair and makeup, like most girls. But her keyholder makes her wear her hybrid (steel and leather) FancySteel belt for this part of the process, because Kitty can not be trusted not to play with her pussy for this amount of time while she is doing her preparations. Then, when it is time to select her outfit for the evening, she will be allowed to briefly unlock her belt, tighten her corset and lock her favorite FancySteel onto her waist. It is all very tight, so her waist is an hourglass figure to enable her to wear dresses without revealing the belt. It is very clever, but it takes a little bit longer for a Chastity Babe to get ready. Still, as Kitty will agree, there is no reason for girls NOT to be belted all the time. Even when going out you can look stunning, and wear whatever you want to wear, just watch this very educational video and you'll understand.
If you are a girl thinking about getting into chastity (yes, do it!), the videos with Kitty will be the best thing you have ever watched. It will help you and support you to make this big step, and Kitty will be happy to answer any questions in person, just leave your questions here, or ask her on Tumblr!