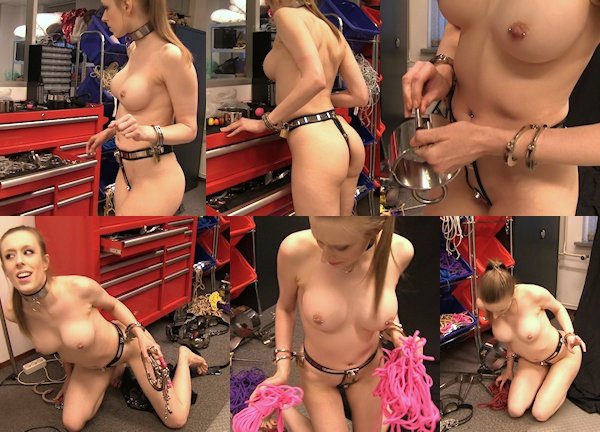 Cobie really worked very hard during her Chastity Deal! She helped my a lot in the studio, cleaning up all the gear that was on the floor after every shoot, and sorting all the cuffs and ropes.
But one day was particularly hard, because there was a Cuffed Day in her Chastity Deal (of course). Always a popular request, Cobie's wrists were locked to her belt for the day. Two pairs of handcuffs and two padlocks made life a lot more difficult for Cobie. As my studio assistant, she suddenly had a very hard time to pick up items from the floor, and even coiling the ropes and storing them was a very complex task!
I loved having Cobie as my studio assistant! Especially this day, she was completely naked except for her belt and collar, and it was great to watch her try to do her job! She managed to twist her incredible body in all kinds of positions and shapes to pick up things and store them. She never gives up! Don't miss this video!
Cobie was a little worried she would have to sleep like this. She tried this before, and the sharp edges of the padlocks were poking into her hips. She did not sleep cuffed during this stay, but next time I will find some rounded padlocks to let her try again! Cobie slept in her collar though, and that was no problem at all!
On the same day, I was offered the opportunity to expand my studio into the building next door, so me and Cobie went there to take a tour (she was still cuffed to her belt)! If anyone is interested, I will publish that video soon! Let me know!
By the way: Don't miss this News item that was published this morning: Cobie visits CuffGirl.com!!!