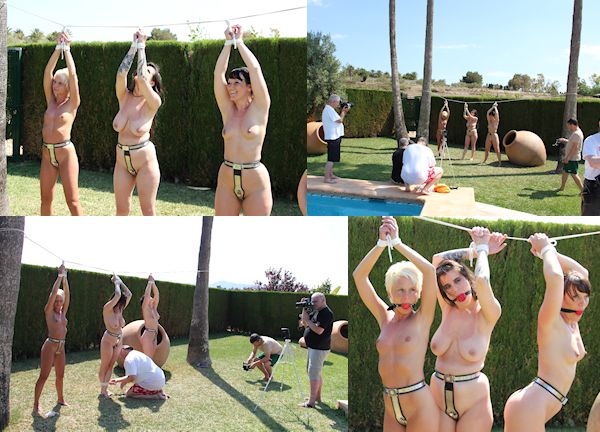 For these three German bondage models, the trip to Spain wasn't really a holiday of course. They were there to showcase some rope bondage (from soft to very hard) to the workshop photographers who had paid for a week of bondage, sun, and shooting!
I was just there to add a little flavor with my belts, and I made sure the girls were belted most of the time during this crazy week! Unfortunately, some of the more extreme bondage sessions could not be combined with a belt, because crotch ropes were sometimes needed to do a predicament challenge. But I managed to keep Yvette Costeau, Lena King, and Raven C in their belts for a good amount of time! Raven was even getting used to it, and Yvette and Lena were walking around like they were born in chastity belts!
The relaxing was over, the girls had to work! They were tied up with their hands over their heads, their legs tied, and gagged with big red ballgags. The photographers flocked in to take their shots, they loved the belts, and the way they looked in the hot Spanish sun! I also took lots of pictures and I made a long video clip that shows you the behind-the-scenes of a bondage shoot!!
Next year, I should organise my own Belted Holiday shoot week though. If anyone is interested in coming along for a week with at least 3 models, just let me know! We can organise this trip, rent a nice big villa, and take pictures of hot girls in chastity belts! I hope there's enough interest to make this happen :)
Warning: big file. Please make sure your internet connection is stable before downloading.