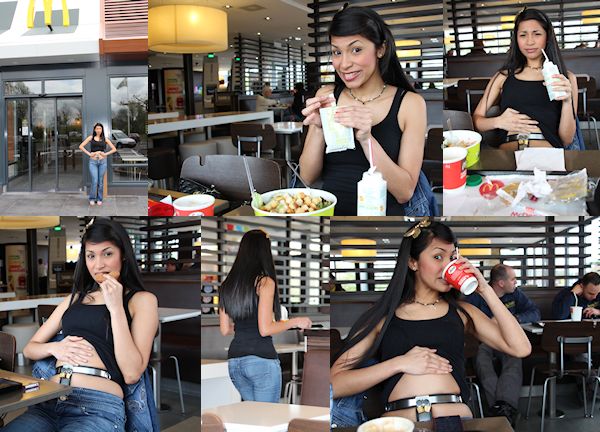 Watching this update will make you happy! Why? Well, Ruth is definitely one of our most likeable girls, happy, smiling, even a little crazy. In her casting, she was locked in a chain style belt, and (since she neglected to read the contract before signing) we now have her for 48 hours!
Of course, Ruth has to eat in those two days. We can not let her go hungry. She wanted to go to a well-known fast food chain to have a salad, the healthy option. So that's where we went for a crazy lunch! Ruth was a little shy at the start, while we were trying to encourage her to show her belt in public. After a while, Ruth started taking lots of risk of being seen (not to mention these kinds of restaurants are full of security cameras), walking through the restaurant, and posing in front of people who were completely unaware of what was going on. She IS crazy!
Filling her stomach made the belt visibly tighter on her waist, especially after she decided to have a coffee and donut, and then some more drinks. She could barely move at the end, because she ate too much. Top tip: when locked in a belt, eat tiny bits during the day, not big meals!
This was only the start of the funny things we did with Ruth, locked in her belt. She took it all with this huge smile of hers, and in very good spirit. Again: you will love this really public update, check it out!