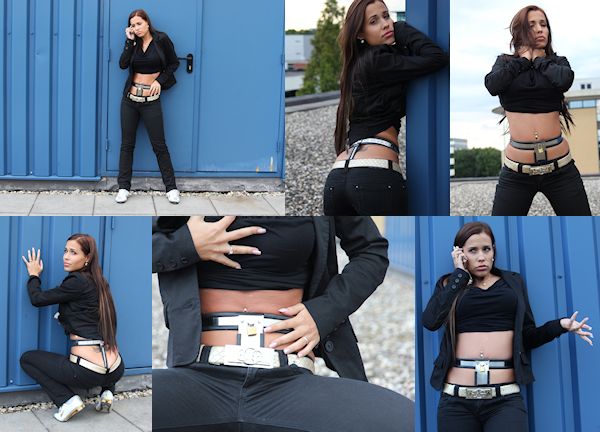 While filming Satin Bloom on the catwalk, she was actually belted much longer than needed. She was locked for 4 hours, although the shoot could have been done in two. We told her there were some problems, first with the lights, then with the music… Satin got very bored, and she eventually asked to be unlocked for a break, to go outside and call her friend.
Of course, we did not unlock her, but she was allowed to go on our roof to make a phone call. This made Satin very unhappy somehow, but she reluctantly went upstairs into the cold evening breeze. Like we noticed before, it is very unnatural for Satin to be locked in a chastity belt. She is a really seductive and spoiled type of girl, with an incredibly hot body that she likes to use to tease men. All of this sexual power is now locked away, and we are holding the simple little key that makes her very unhappy.
You can see Satin does not really smile anymore in this update, she tries to get out of the belt, giving it some of the hardest tugs and pulls we have ever seen. But the rigid belt can not be destroyed by hand, and Satin gets even more frustrated as she tells her friend she is stuck on a rooftop in a stupid chastity belt. We think Satin is a good candidate for a 14 day contract, although that might kill her, because she lives to have sex!!