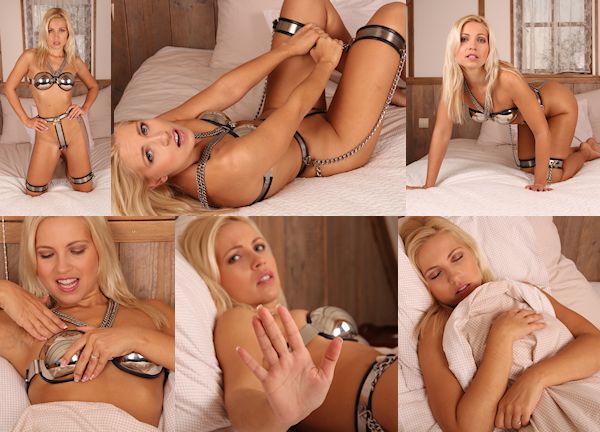 The only night in Jenni C's 36 hour chastity challenge was interesting! Jenni C is a fighter, something that many of you will love to see! When she realised she had to go to bed wearing a chastity belt, thigh bands, and a chastity bra, she tried everything to get the gear off her!
She knew it was impossible, because she already tried during the day (several times!), but the prospect of having to sleep in this full chastity outfit was a little too much for poor Jenni! She struggles and pulls at the chain locking her upper legs together, at the bra that is so tight that it will not give an inch (yes, her own boobs are preventing her from sliding the bra up or down!), and at the dual padlocks on her waist belt. Nothing gives, we are glad to report that our chastity outfit is Jenni-proof!
In the end, there is no other option for Jenni than to go to sleep. She hates us, but she should not complain, she gets a nice reimbursement for this chastity deal, so we don't feel guilty at all for locking her up for 36 hours!