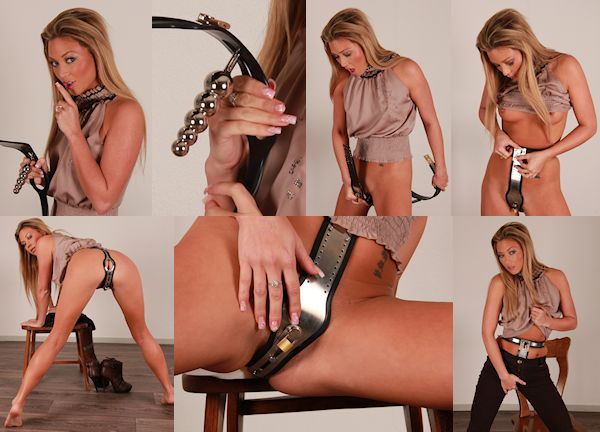 We just had to try this, one of the most popular member requests: to see a Chastity Babe try on a belt with a plug inside. Trying to cater to all tastes is proving to be more difficult as the website grows, but we are doing our very best!
We did not have much trouble convincing Natalia Forrest to try this, although she was a little hesitant at first. The heavy and solid metal insert is kept in place by a replacement secondary shield, one that is slotted instead of perforated. The slot means the plug can move back and forth, but it can not be removed unless the secondary shield padlock is opened. The sliding means that this belt can be worn for daily activities, which is quite impossible with fixed plug belts, since bending over changes the position of the body and the plug should be able to change its angle accordingly.
After admiring this clever design, Natalia wastes no time to put the belt on herself. She is very good at belting herself now, and she even realises the plug has to go in first, before putting on the waist belt. Good girl!
Natalia's comments make this video very nice to watch, she tells us exactly what she is feeling and thinking, and how the plug moves inside her as she carefully tries walking and sitting down. The hardest part is putting her boots back on, because lifting her leg pushes the insert deeper inside her.
Torn between discomfort and pleasure, we can clearly see Natalia has not yet made up her mind about the metal inside her, but we are sure she will get used to it after a few more tries and updates. That is, if you (the members) want to see more plugging. As always, comments are welcome below!