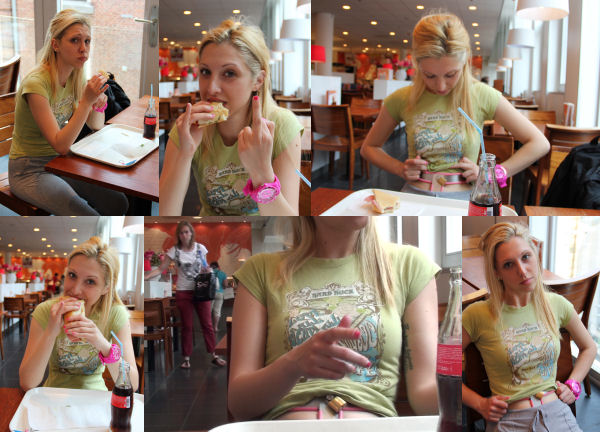 THIS UPDATE WAS SHOT ON DONNA DAY 16 (MAY 18th)
How nice of us! We took Donna out to lunch! But Donna did not really appreciate it, because we only had one goal: take pictures and video of her in a public place. Oh well, we can understand grumpy Donna, her mental state is influenced by being belted 24 hours a day. Giving your keyholder the finger is usually not a very good idea, but 30 days is 30 days, so Donna apparently felt free to express her thoughts about us.
Unfortunately the lunch room was not as busy as we would have liked, but there were enough people around to make it exciting. These people have no clue there is a belted girl having lunch right next to them! We think wearing a chastity belt in public is one of the most exciting things in the world, for both keyholder and the wearer, but Donna probably did not share our excitement. It was day 16, she made it half way, and she was counting down to her release. Still, 14 days to go is no small task, even for a girl who is completely used to her belt.
Enjoy this lunch with Donna, and don't worry too much about her, you will see some smiles if you look closely. Donna definitely was not grumpy all the time, she just hates cameras in her face when she is eating, and that is completely understandable!!
Remember the Donna updates are not shot in a studio so picture quality may vary. Member pictures and videos are not censored in any way.