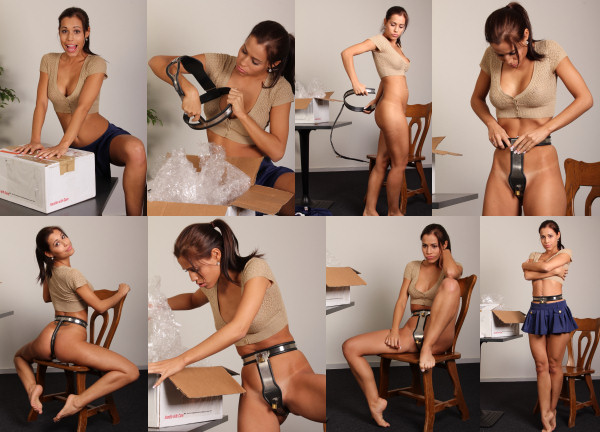 Cheerful Satin Bloom joins our fine selection of belted babes this week! This stunning beauty does not have any problems at all with chastity belts, she loves this stuff!
For her casting, we present Satin with a mysterious parcel and a pair of scissors. Curious, she rips open the parcel to find a rigid style chastity belt. After some inspection, she decides to try it on. She removes her skirt and panties and slowly puts the belt around her waist and between her legs. It fits her very well!
Satin snaps shut the padlock and for a little while she is enjoying the feel and the restrictions of the chastity belt. She shows us all sides of the belt, Satin is very flexible but even her crazy leg moves do not shift the belt at all. She is properly locked up, with no way out.
No way out? Of course we did not include any keys in the parcel ;-) Satin starts to realise what she has done to herself, and that this casting will be a little longer than she anticipated. Now she suddenly wishes she brought different clothing than the skimpy schoolgirl skirt. It does not cover the belt at all!!
We think Satin Bloom is a very welcome addition to our collection of chastity babes. She can probably wear the belt for very long periods without complaining, always smiling, very flexible and sexy. Let's think of some challenges for her!