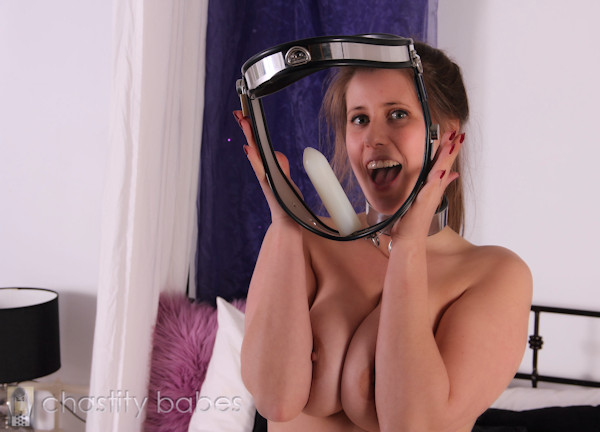 Remember Lady Lyne? This babe from Belgium was way too horny for a chastity belt. She started rubbing and prying and pushing her NeoSteel. Even though it didn't give her much pleasure, I still ended up having to lock her wrists to her collar to prevent her from touching herself all the time.
It was also a bit my fault of course. I didn't add the secondary shield to the belt. So if I would add a plug later, the base of the plug would be visible to prove to you (the members) she was really plugged. This leaves the vaginal slot open. It's not big enough to put a finger through, but Lady Lyne was able to touch her lips with the tips of her fingers. Don't worry, she can't climax from that, she needs a big toy inside her (she told me).
No worries, it was soon time to add a big vaginal plug to her belt. She was a bit suprised, but she eventually managed to install the plug and slide it in, locking the belt back on. I really wonder how long I can keep Lady Lyne in a plugged belt. She will feel the plug with every move, making her more and more wet and horny. She needs to drink a lot of water, that's for sure! Let's find out how long she will last when I give her Challenges (so she is moving around a lot).
Let's hope she won't explode!!