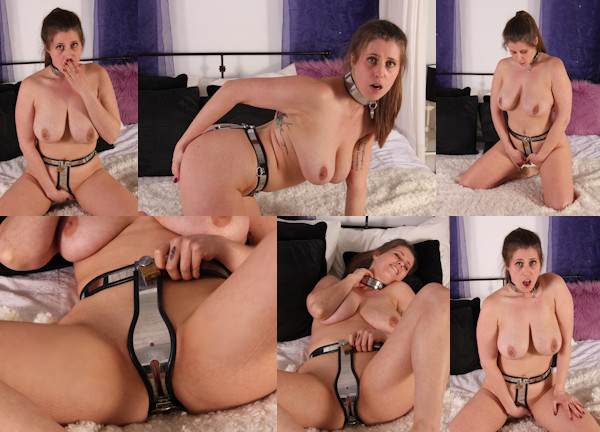 Time for a new Chastity Babe today! I invited the busty Lady Lyne over to try a belt, but it soon became apparent she is too horny to be locked in a belt. I used a NeoSteel on her, but I left the front shield off because I was going to add a plug later, and I thought it would be nice to see the base of the front plug for once.
But that was a mistake. Lady Lyne's prying fingers soon found the vaginal slot and she started to touch herself. Well, she tried to. The slot is too narrow for her fingers, so she got really frustrated. I told her to stop trying to touch herself, but I didn't realize Lady Lyne is one of the horniest girls ever! I mean wow, she can't go one minute without touching herself. She is literally masturbating all day. I have never met anyone like her!
In the end, I had to cuff her wrists to her collar to stop her from touching the vaginal slot. Now Lady Lyne was even more frustrated! She got pretty angry with me. I was in doubt now… should I continue with my original plan and add a big vaginal plug? I think Lyne can't climax from penetration only so it would be extremely frustration for her. This is definitely a difficult case, she needs chastity more than any girl I have ever met!