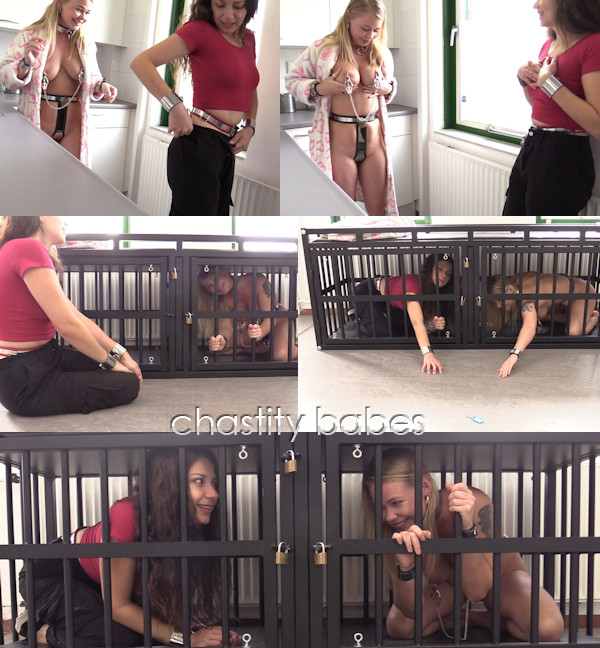 It had to happen of course: Darina was in my studio for quite some time; at some point my studio assistant Anahí was going to show up to work here. Anahí is required to wear her red My-Steel whenever she starts work in the studio, so that's the first thing she does. Then she went upstairs into the kitchen where she found another belted girl, much to her surprise!
The girls bonded immediately! Anahí was amazed at Darina's ability to wear a plugged belt and nipple clamps for her Chastity Deal, because she knows how hard that is. The girls chatted a while and showed each other their chastity gear.
Then I gave Anahí the assignment to lock Darina in a cage. It is a large cage, but it can be divided in half by sliding some bars in between. Anahí locked the cage, but she forgot to lock the divider, so Darina started to escape. When Anahí returned, she fixed her mistake and locked Darina in half of the cage. She immediately felt sorry for the Russian girl, being in such a confined space with clamps and a plugged belt. Anahí has such a kind heart, remember when she met Dominique doing a hard Challenge and she joined her? The same thing happened again. Anahí felt so sorry for Darina, she locked herself in the other half of the cage to keep her company.
She did not have a key, so they were stuck together in the cage when I went to check on them. I dropped a key out of reach and left them there for a long time. They seemed to be fine, chatting along in the cage, sharing chastity belt stories. What a wonderful encounter, I love introducing Chastity Babes from different countries to each other!