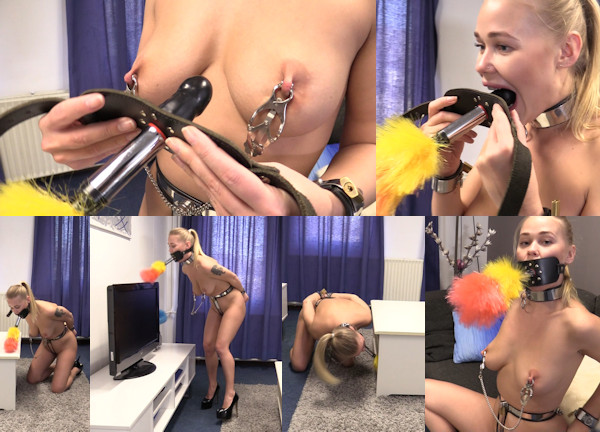 Darina is doing the most challenging Chastity Deal of her life, yet it looks too easy for her! A big vaginal plug inside her 24 hours a day, and clover clamps on her nipples. Darina is just relaxing in the studio, even doing her fitness, and I keep thinking how to challenge her a bit more during this Deal!
I think the best way to make it a little harder is to make sure she is moving around a lot. That way she will definitely feel the plug and the clamps all the time, which will remind her of her contract conditions. In this update, I made her clean the entire room using only her mouth. A big penis gag with a duster attached to it will make sure Darina will have to bend over, crawl, and move around a lot, with her hands cuffed behind her back. I even got out some very tall high heels to make it harder for her.
Things can't be hard enough for tough girl Darina, I have noticed. Many models couldn't even deal with a plug for very long, let alone clamps! I almost thought she didn't feel the clamps, until I caught her secretly removing them! I told her to reclamp herself immediately! She's a bad girl, I have to keep my eye on her all the time. Good thing she can't take off her belt, collar, or cuffs. They are locked on. I wish there was a way to lock nipple clamps on. Let me think about that.
Enjoy this awesome update of Darina as a plugged and clamped maid. If you want to be a Chastity Babe, don't hesitate to contact me, even if you don't want to be on this website there are always options for you to make some money!