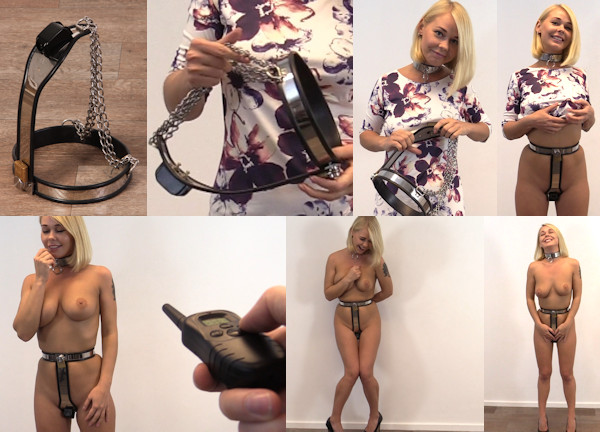 This idea had been on my mind for a while, but I was a bit hesitant to do it. Shocking a girl in a very sensitive area is not for the faint hearted. And chastity belts are metal, so I had to find out a way to isolate the prongs from the shock unit so I wouldn't short it out or electrify the entire belt!
Finally, I made a prototype. Now I just needed a girl crazy enough to test it. Someone who is not afraid. Ever. Remember Darina from Russia? She did an entire day locked in 4.5 kilos of steel, smiling all the time! She thinks my challenges are fun and she loves prize money, so she was a perfect candidate for the first test of the Shock Belt!
Fortunately for Darina, the unit can also be set to vibrate. So I got off to an easy start, testing the vibration, which was already a little scary for her. Not knowing when I was going to press the button was probably more of a tease than the actual vibrating of the belt. It is a very powerful unit so I could make her belt vibrate very hard! Darina liked it a lot!
The shock mode turned out to be very intense. Even at level 1 (out of 100), it was already almost too much for her. But brave Darina even tried level 2! It made her jump, and she laughed, but it was quite painful. Imagine having this unit under a dress and going out in public! Darina said that would be very strange for people to watch. This is very extreme thing to do. Don't try it at home. I was scared of it, and I wasn't even the one wearing it! Bless Darina, she is such a trooper! I love giving her the most interesting challenges!