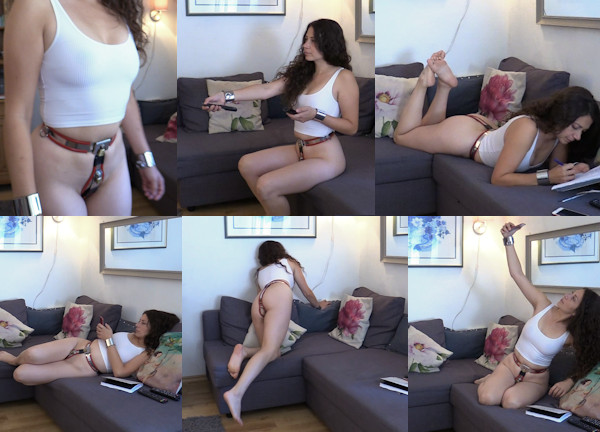 Anahí has been keeping me updated with selfies and messages every day, and she is doing fine so far. It has been already 9 days! Okay, there was a moment when she didn't feel so great, but in general she has been cheerful and very much herself: happy smiley Anahí!!
This red My-Steel is her own belt, so she is used to it and it is formed to her body. It makes a Chastity Deal much easier if there is no extreme pressure points that can pinch or damage skin. She knows how to use the toilet (she rinses in the shower after using the toilet) and she can keep herself reasonably clean. Anahí has only come over once, to take a shower at the Chastity Mansion, supervised of course. I still have the keys right here, and I love the idea that she is unable to take it off without travelling all the way over here, an hour on the train.
I have no doubt she will make it. She is determined to get her prize on the 31st and I don't blame her! It's just sad that it will be only 1 month, I'm sure the 31st will be a very happy day for her, but for me it will come too soon.
How is everyone else doing for Locktober? I know a lot of girls and guys are participating this year, and I would love to hear from you in the comments. It is not always easy, so please describe what issues you had and what is the most difficult about this Challenge. It's also great for other people to read if they are planning to join next year! Of course, if you are happy during your Locktober challenge, and you have no issues, I would love to hear from you too!
Enjoy Anahí's video report she sent me. It is a little mysterious, she tries to watch TV but fails somehow. Then she writes down something. I don't know what is going on but I noticed that at NO point she is actually looking at the belt, she is moving, sitting, walking, without any problems. It almost seems she doesn't remember she is wearing a locking metal device on her body!!