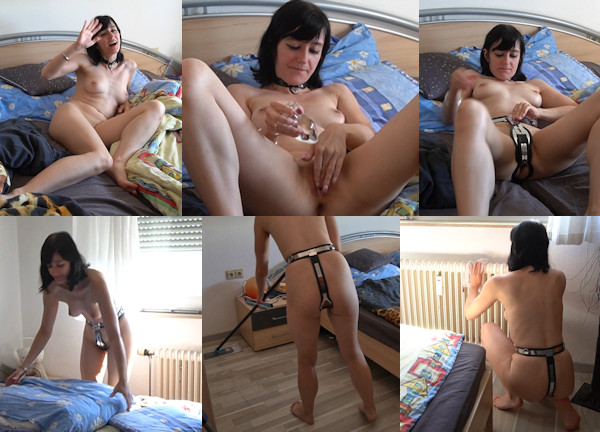 If you are a Chastity Babe fan, you have probably seen the awesome Moni from Germany. She has been locked in her My-Steel for over 3 years now, with her Master controlling her freedom and her daily life. Very exciting! She had a huge following on Tumblr before, and now she is making a name for herself on Twitter, check her out at https://twitter.com/bitchmoni!!
Moni is always plugged under her belt, and not just with any plug! She is used to wearing a very big and wide vaginal plug! It took a lot of training for her to be able to do this, but now she is used to it. In this video, she shows us how she inserts the plug in the morning. She then puts on her My-Steel belt, which is being locked by her Master. She actually did this just for my website, because usually she is belted all the time, only taking it off for a supervised shower/cleaning break. She just wanted to show you what the plug looks like and how she inserts it before locking on her chastity belt.
She then goes on with her day, cleaning the bedroom like a good submissive. Who wouldn't like to own a girl like this! Locked in a belt with a huge plug inside, doing all the cleaning and daily chores. Moni is one of the few life style chastity girls I know. She has had her own My-Steel for years now. Of course, she loves other fetish and bondage adventures too, but usually she is belted, and that's what I really like about her. She is a genuine and sweet girl, a true submissive and a chastity belt enthusiast! It was about time I got her featured on this website! If you didn't know about her before, check out her Twitter, ask her questions about her belt, and be nice to her! She deserves a lot of love for sharing her chastity life with us!
4K video! (just a test, let me know if you have trouble playing the file)