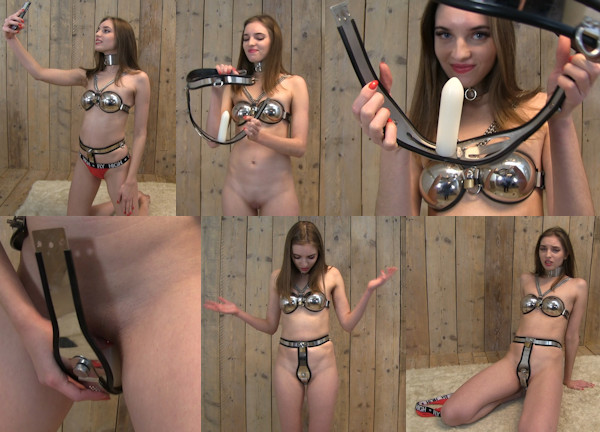 The total Casting time is always around 4 hours, it's needed to get the girls used to the belt. Not too short, and not too long (in case of a bad fit or other problems). Vika seemed to be doing well after she was locked in her belt and bra. Sure, it was tight, but I found her taking lots of selfies in another room, which is always a sign they are doing fine.
It was time to bring her a surprise: a huge nylon plug for her NeoSteel belt. Vika was not too shocked, which was very funny. She seemed happy when I gave her the key to remove her belt, and we checked the marks on her skin. It was not too bad, but the belt had been very tight on her hips. I told Vika to fit the plug into the belt, and after a little struggle she managed to slide the dildo into the primary shield slot.
Offering her some lube, I filmed as Vika slid the plug inside and pulled the belt up to close it again. With a little help (NeoSteels are very rigid) she was soon securely locked again with the keys safely in my back pocket. Vika said she felt very excited, although the discomfort of the belt was still preventing her from fully enjoying the new plug inside her. I left her again for a while, but now she did not take as many selfies. She sat on the floor trying to find a good position as the plug moved in the slot.
Vika Lita was fully locked in metal. Collar, bra, and plugged belt. She is an amazing girl, very pretty and fun to talk to. She used her time in Europe to improve her English and she was doing quite well! I really enjoyed doing this Casting with her and if she can ever return to Europe, I would definitely offer her a full Chastity Deal. A plug will definitely be inside Vika for the entire Deal… maybe even two!!