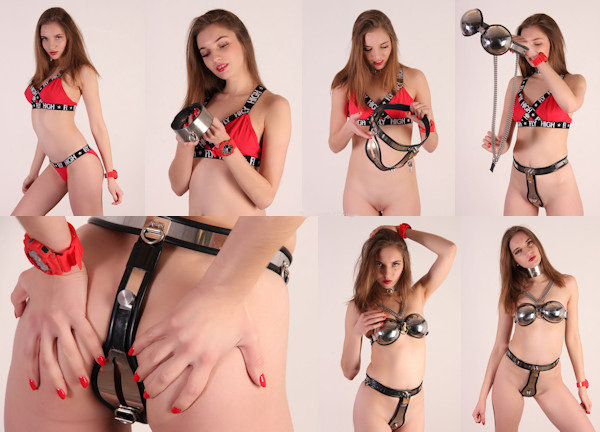 Cute fitness girl Vika Lita wanted to try ChastityBabes.com modelling, and I thought she was a great candidate for a plugged belt! I didn't want to scare her away however, so I planned to do a Casting in full chastity, adding a plug later as a challenge. I was quite sure she would try the plug, as she was very adventurous when she did her MetalBondage.com shoot!!
Vika (short for Viktoria) is a really fun Russian girl. She doesn't speak much English, but we had a good day in the studio. She was happy to be locked, even though she only seemed to realize her gear wouldn't open without a key after she was already in it. Her belt, bra, and collar all require separate keys and I kept those in my pocket. The gear was pretty tight, and that's always a big challenge if you are belted for the first time. Especially her bra was tight, limiting her chest breathing range, something that takes hours to get used to. Good thing she was going to spend at least 4 hours locked up!
After removing her sporty fitness underwear, locking on all the metal, and putting her red bra and panties back on, Vika was ready to hang out at the studio. I let her wait for a while to get used to the gear, and she seemed to be very obsessed with taking a lot of selfies. Tune in next week to see what happened when I returned with a large vaginal plug for her belt!!