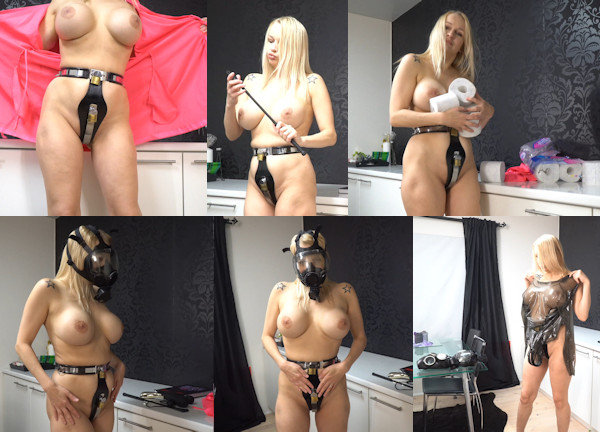 Meanwhile, in Finland, our big boobed Chastity Babe Mary is on full lockdown. It is not a funny situation, but Mary made me smile with her sense of humour! I think we all need a bit of this in our lives, there's nothing we can do but sit and wait (and watch ChastityBabes.com videos of course).
Mary is locked in her tight Access Denied belt as always, strutting around the house naked (in heels). She managed to get some toilet paper from the shop, which is a big asset these days. Of course, Mary has two other big assets that are worth looking at, and her Master demands that they are always on display. That's why Mary is almost always naked, except for her custom made belt of course. She is so horny, she always wants to touch herself, but her Master does not allow that. If you want to know more about their dynamic, be sure to check out the earlier Dirty Mary updates on this website!
Quarantine is boring, so Mary tries to pass the time by inpecting some of her bdsm toys, like a crop, a magic wand, and finally… a gas mask! Which is perfect for the current situation! She decides to wear it, for extra protection. But she gets distracted again when she finds her latex body suit. She hopes Master will give her permission to wear it, because she LOVES latex! After getting permission, she tries to put it on, but her belt is in the way. Master prefers the suit to be under the belt, but he is hesitating… will he open the belt briefly for Mary to put on the latex outfit? Wait and see, part 2 is coming soon!