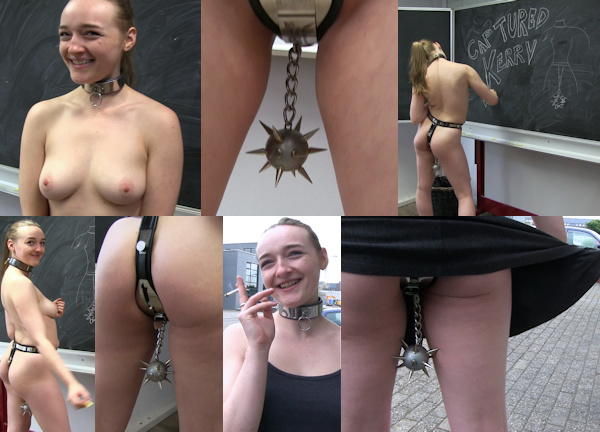 Kerry told me she likes how I always have new Challenges for her when she is doing a Chastity Deal, so the pressure was on to find new ideas! Even though she was already doing one of the hardest Chastity Deals (double plugged with two large rigid plugs inside her NeoSteel), I knew Kerry would become bored if I didn't add some extra excitement.
I decided to lock a spiked ball to her belt, dangling between her legs. The spikes were actually quite sharp, I designed this contraption especially for Chastity training to make a girl think about every move she makes. Kerry would have to walk with her legs apart to avoid getting poked by the spikes. She insisted to wear her heels, which was very interesting, because she was already walking in a very focused way (because of the two plugs, especially the rear plug). Adding the spike ball made it very hard for her to move without feeling anything.
For example, turning around would poke the spike ball into her legs, walking too fast would make the ball hit her legs from behind, spreading her legs too far would make the plugs go deeper, and let's not even talk about bending over or crouching. This is a very interesting Challenge!
The spike ball was locked on, so Kerry couldn't even remove it. I made her write on the big black board, but I told her to write on the entire board, so she would have to walk back and forth. She drew a cute picture of her current predicament and she managed not to get poked too much. So I asked if she would like to go for a smoke, which would involve a lot of walking and moving. Kerry would have to find a dress, go down the stairs and outside to have a smoke. But as always, Kerry loved every minute of her double plugged Chastity Deal. This girl could be double plugged forever and not complain once! She is just amazing! Go find her on twitter.com/captured_kerry if you haven't already!