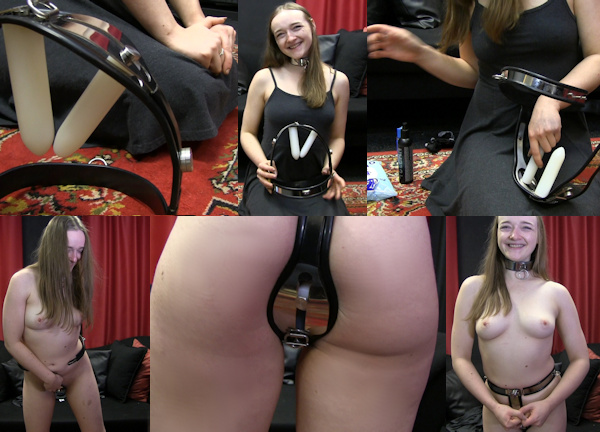 Kerry loves to sign 4-day Deals! Last time she was here, she did so well, she effortlessly walked around in a tight NeoSteel and collar all day long, and she even got plugged! Kerry is just so cute! She is very submissive and into all kinds of fetishes, but chastity has become a favorite of hers, and she loves to come over for a Deal or be on my ChastityBabes.com promo team.
For this new Deal, Kerry is going to try to complete her usual 4 days (3 nights) with two huge plugs locked into her belt! She has never done the rear plug before and it is almost as big as the front plug! Kerry was a little intimidated by the sight of the belt this time. But she did not want to back out, so she bravely went for it.
Applying a lot of lube is important, especially to the rear plug, and Kerry did a great job getting ready for her belting. She took her time sliding both plugs in and then it was time to lock this very tight belt! Such a strange feeling of having two big plugs inside you when someone else has the key! You just know you can't remove them and you are at the mercy of your keyholder. Two rigid plugs in a belt also change your posture, girls have to really get used to walking, sitting, lying down, it takes quite long to get used to.
Kerry was excited for her 4-day Deal, but she was also a little worried she wouldn't be able to make it. It is a LOT harder with two plugs. And she knows me well enough to realise there would be some interesting challenges along the way!