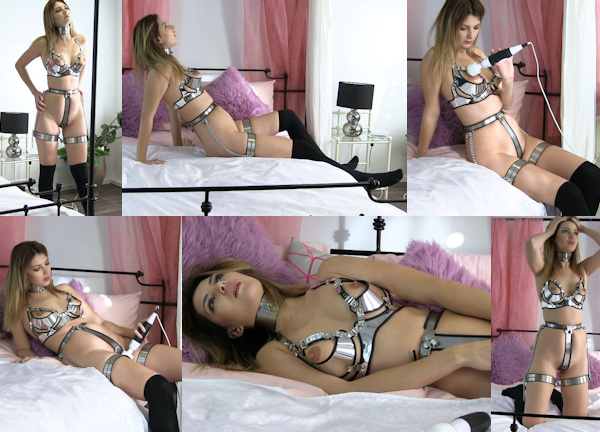 For Mistress Kristin, being in a chastity belt is one of the hardest things she has ever experienced. Not because it is uncomfortable (if you aren't used to it), but because she is not in control. She hates that.
She also hates collars, because they symbolize submission. She hates locks when she does not have the keys. She hates limited movement. And here she is: on the bed trying to deal with this situation.
Well, she is not really on the bed. It looks like she can't decide between standing up or sitting down, there is just no way to get comfortable for her. The thigh bands are bothering her a lot. She finds a magic wand vibrator, and for a moment she seems pleased, but she quickly gets frustrated again when she realizes she can not feel anything.
Mistress Kristin looks hot though. She is wearing this incredible metallic bra that makes her nipples poke out. Combined with her locked chastity belt, thigh bands, and large collar, she is a real Metal Mistress! I suggested she should do dominatrix sessions dressed like this, but I don't think she will do that. She really hates chastity. She wants to be in control!