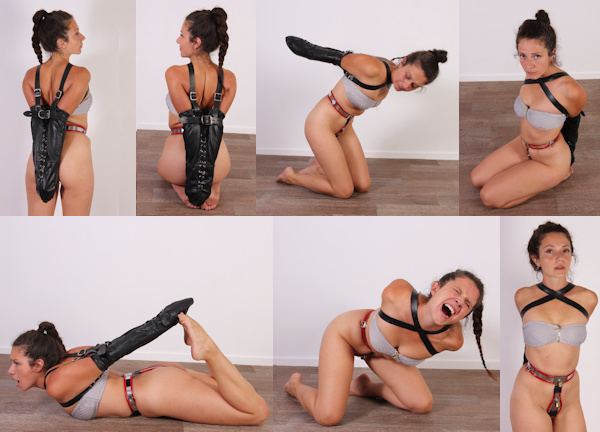 Let's not forget I have another cute Chastity Babe in my studio at least 2 days a week! My studio assistant Anahí is required to wear her ultra-tight red My-Steel whenever she comes and works for me in the studio. She doesn't mind at all. In fact, she locks herself into it, it is the first thing she does when she arrives. But just cleaning and painting is not all she can do. She is a lovely model too!
You may have seen her update on GirlAsylum.com in December. That was a great afternoon, we had a lot of fun shooting that. Anahí gives 200% when doing anything, so she reaaaally struggled hard in the leather armbinder. She was rolling around on the floor, trying her best to escape, and she was sweating! The members at GirlAsylum.com probably did not understand why she was in a chastity belt, but it has happened before. Remember when I had Cobie in a Chastity Deal and she wanted to shoot for GirlAsylum.com? I can't just take the belt off for a shoot! Even when shooting with other photographers here in my studio, Cobie remained belted (and Anahí too!). Maybe I'm too strict, but a chastity belt should not be taken off for any reason but hygiene breaks.
Anahí does not even notice her belt anymore. The entire armbinder struggle was about the leather armbinder. Not once did she mention her belt, just showing how much she has gotten used to it. Yes it is super tight, but don't worry, she can handle it! If you ever want to meet Anahí (in her belt), feel free to plan a visit to the studio. If you come on one of Anahi's working days, you will definitely see her in her red belt, just happily cleaning, painting, or making coffee! She is the best assistant in the world!