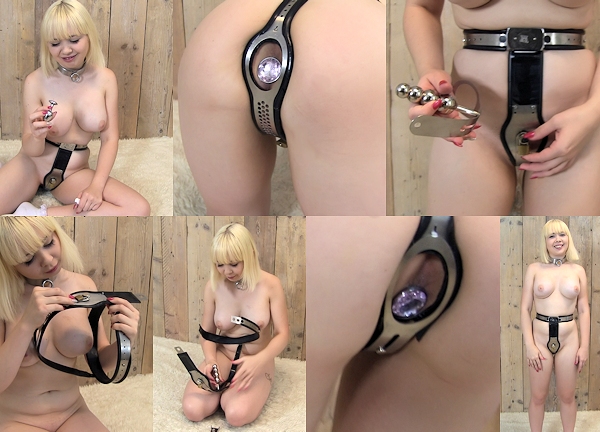 Cherry English (like most Casting girls) got a bit bored after a few hours. She said it was no fun, waiting around in a tight chastity belt. So I told her I had a surprise for her: a jewel butt plug! I asked her to put it in, and Cherry ran off to get some lube. She did not need to take the belt off because the plug neatly fit in the anal opening of the belt.
She liked the plug (I think), but Cherry said it still did not make it any more fun. So I tried to keep her busy for a while by giving her a big vaginal plug to go inside her belt. The vaginal plug of course requires a different front shield (with a slot instead of tiny urination holes). The belt had to come off, and the shields had to be swapped by unlocking the secondary padlock. This gave Cherry something to do. It seems like she loves technical things like this. Swapping over the shield and installing the big plug was very interesting to her, she had never seem a system like this.
Once installed, the plug (with some more lube) slid nicely inside this little ChastityBabe. The belt was now even tighter (I don't know why it always feels tighter with a plug installed), so the plug was pushed deep into Cherry's pussy. With the large buttplug taking up some additional space, she felt very full. I asked her if she was still bored now, but she did not really answer. She just stood there, filled with two plugs. A few more hours to go for Cherry in the belt!