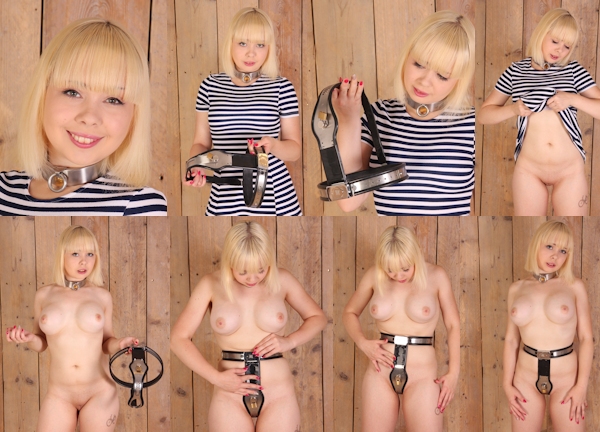 Cherry English is a tiny submissive girl from the UK, who came over to Holland to try a chastity belt! Yes, she did :) This girl is really tiny! With her super cute voice, her curiosity, and her fun attitude, she is definitely a good Chastity Babe candidate. I couldn't wait to get her locked in a tight belt!
Cherry admitted that she actually really needed a chastity belt, because she is very naughty. She can't stop touching herself, and it sometimes leads to a lot of wasted time when she should have been doing important things! A chastity belt can help her focus, so she wanted to come over and see what it is like to wear one for an afternoon.
I locked her in an SM Factory collar and told her she would have to take off her clothes to get locked in the belt. She revealed a great body with nice boobs, and she wasn't shy at all! I let her figure out how to open the belt and how to put it on. She managed all of it without any help!
Cherry thought it felt really strange. In her posh British accent, she said 'oooh I just realized there is a hole in the back!'. She tried to act like she was shocked, but her big smile showed me she was very amused by the whole experience. She would have to spend a few hours in the studio like this. I was in doubt of adding plugs to the belt… maybe she was too cute and innocent to get a plug added? Do you think she should be plugged?