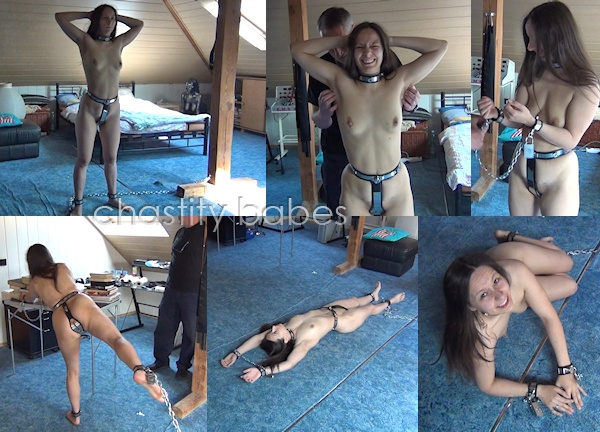 Good thing Aiyana is a natural submissive, because the Chastity Deal she signed is not going to be easy. Some may even consider it slave labor! Just to be clear: it's not. Aiyana can ask to be released at any time, before her week in chastity is over, but she will not get her prize then. And the fact that's she is put to work, cleaning and helping in the household, well… a Chastity Deal can't be just waiting in a room until the time is up. You might as well make yourself useful if you're a guest, getting accommodation and food for free!
Aiyana does not mind being a household slave at all! She loves serving, and she is happy to help out in any way she can. Just like other German girls like Muriel, Lena, and all others in the Spanish holiday Deals, she doesn't just sit around playing with her phone. She wants to help! Master Merlin likes treating her as an actual slave, training her a little in assuming slave positions, collaring and chaining her, but it is all in good fun. He even teases her a lot, tickling her and pouring cold water on her back when she isn't fast enough, and Aiyana laughs out loud, she is having a good time!
Merlin adds wrist cuffs to her outfit, with a heavy chain between them. These restraints are all NeoSteel, she is now in a NeoSteel belt, collar, ankle cuffs, and wrist cuffs. Her task of moving stacks of books is getting harder and harder as more restraints are added. When is finally finished, he allows her to lie down, but she gets teased with cold water again, so she doesn't get much rest. Aiyana is all smiles though, she loves being treated like a proper slave girl!
Chastity Deals are generally a great time for girls: they get free accommodation, food, drinks, and prize money at the end! Free travel is often included and hosts are always going to great lengths the girls are comfortable and happy. The only thing they can't do is touch themselves! A small prize to pay for so much fun and reward!