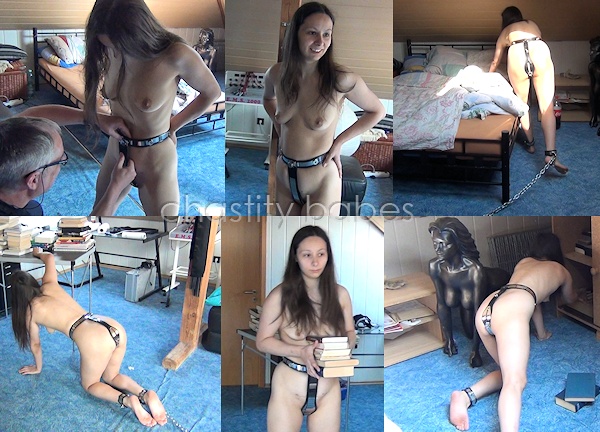 If you are really into female chastity belt videos, you know Master Merlin from Germany. His videos occasionally featured a NeoSteel belt with the optional modular bondage (click-)system. One of his regular girls is Aiyana and I met her recently. It turns out she is a real life submissive and she loves being in the NeoSteel, but she doesn't get locked up very often.
Of course, I immediately contacted Merlin to solve this problem! I told him about Chastity Deals and how it would be a lot of fun for both him and Aiyana to let her sign a contract for a longer belting. He was very happy to help and he started with a 7 day Chastity Deal for this German cutie. Aiyana has been belted before, but never this long! Also, I may have told Merlin he can include all kinds of additional things in the contract, like chores, challenges, and lots of extra bondage. He definitely saw the benefits of having a chastity slave girl in his house for a full week!
So here we go, this video shows you the belting of Aiyana, where she gets locked in the NeoSteel chastity belt. Merlin also adds NeoSteel ankle cuffs and attaches a heavy chain to one of her ankles. Then he makes her clean the room. One of her tasks is to move books from a really hard to reach place to the other side of the room, which is very hard as she is chained to one ankle. Merlin even makes her crawl for some of the tasks, giving us a perfect view of this belted girl. There are a lot of jobs she will have to do during this Chastity Deal, making the beds, cleaning, etc, but Aiyana will also receive some extra slave training.
After completing some of the jobs, Merlin tells Aiyana to stand up and he locks a NeoSteel collar on her neck. She has to put her hands behind her head and wait for her next tasks. This will be an exhausting Chastity Deal for Aiyana, but don't worry: she is a true submissive and she loves to serve!