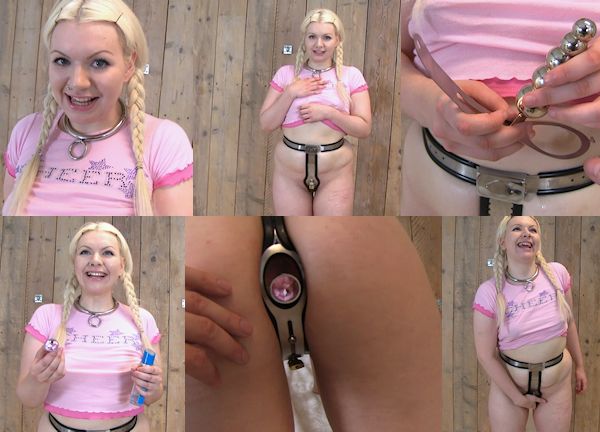 Cute girl Penny Pocket is 22 years old and she is from the UK. She messaged me if she could come over to try a chastity belt in Holland! Well, why not! She seems to be a very naughty girl, and I love stopping naughty girls from touching themselves.
But I really wanted to do a plugged update for you, because it seems to be very popular to see girls wear plugged belts. It's not easy for the girls, especially in a first time (Casting) situation, and Penny did not know I was going to add a plug. She was just trying to get used to the belt I had locked her in. It was very tight, and she thought it was a bit embarrassing there was such a big hole in the back, spreading her butt cheeks apart. There was definitely no way she could touch herself!
Then I showed her the big 5-ball vaginal plug I wanted to use, including the slotted secondary shield. I also wanted to add a (probably 4-ball) plug in the back, but I was almost sure that was one step too far for Penny. To my surprise, Penny said: 'can I wear my own buttplug instead?' and she ran off to get her super cute pink jeweled plug. I did not expect that, but it was a great opportunity to get her double plugged on her Casting shoot! A huge 5-ball plug in the front and her cute pink buttplug in the back.
This was going to be a good day! Of course, I wasn't going to let her out for quite a while, so Penny was stuck in her belt with two plugs inside her, and the front plug was already starting to arouse her with every step. It was also one of the hottest days ever in Holland (about 37 degrees Celcius), so I definitely wanted to talk her for a long walk outside on such a beautiful sunny day!