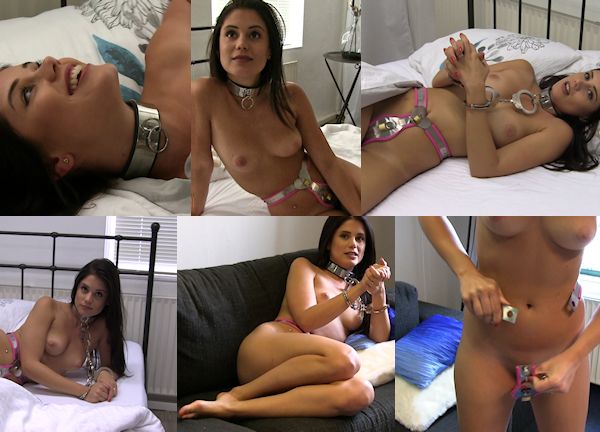 On the last morning of her Deal, I decided to have a little more fun with her. She thought she was going to be unlocked when she woke up, but I explained to her we did not start the 48-hour Chastity Deal in the morning (but rather around noon), so it would still be a couple more hours before her unbelting.
Caprice was very disappointed. She did not sleep very well, even though the bra was taken off. Now she was complaining about the noise from the collar ring. But we all know she was just getting frustrated because she couldn't touch herself at night. She went back to sleep for an extra hour, until I showed up again with a new proposal. I told her she had to wear a plug for the few hours that remained. Caprice was not happy about that, she had a 'personal' problem that would make it hard to put something inside her. After some discussion, I gave her a choice: either wear the plug till the end of the Deal, or remain belted for 4 hours more (after the original 48 hours) with her hands cuffed to her collar.
She had no choice but to go for the latter option. Now she couldn't even touch herself if she wanted to, her hands barely reached down to her belt. The other problem was that her flight was going that afternoon, so she would be belted right up until the last possible moment. She was afraid she would have no time to orgasm, as we would have to leave straight for the airport after the unbelting!
It was very hard for her to do the extra hours. I guess she was already looking forward to her unbelting when she woke up, and then it turned out she had to spend at least 8 more hours (the last part in handcuffs!!). Her mind found it really hard to cope with this, and she was not happy. But she will be back! Caprice will always be back!