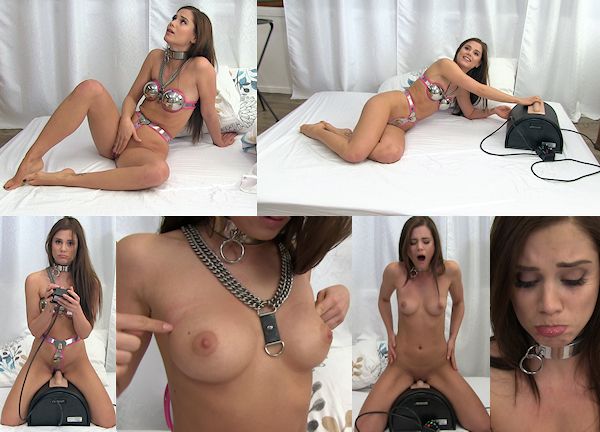 Little Caprice is very good at pouting. She thinks she can get her way by looking really cute and begging. To be fair, I was a little harsh on her, using a cage and a locking ballgag. Caprice was starting to get really upset. Of course, it's because she can't touch herself, and she is used to masturbating 3 or 4 times a day.
That's why I arranged a big surprise for her! A Sybian!! The world's most powerful vibrator! It makes the whole building vibrate on the highest setting. Caprice knew already what it was and how it works, I guess she has been on one before. She was very happy with my surprise, until I told her to sit on it. 'With the belt on?', Caprice said. 'Yes, let's see if you feel anything', I said. She tried it for a few seconds before turning it off again. It hurt! Clearly it's not a good idea to use a Sybian while wearing a chastity belt.
I was only teasing her. Of course I gave her the keys to her bra and belt, so she could have her reward for being a chastity pet for a few hours. Maybe you think I was a bit soft, but my plan was to lock her back up right after she played with the Sybian, which makes things a LOT worse for Little Caprice, trust me. Going back into the belt after the Sybian (after having fun) would get her even more frustratred. Exactly what I wanted, because her Chastity Deal was far from over, and I love frustrated girls! Even pouting ones!