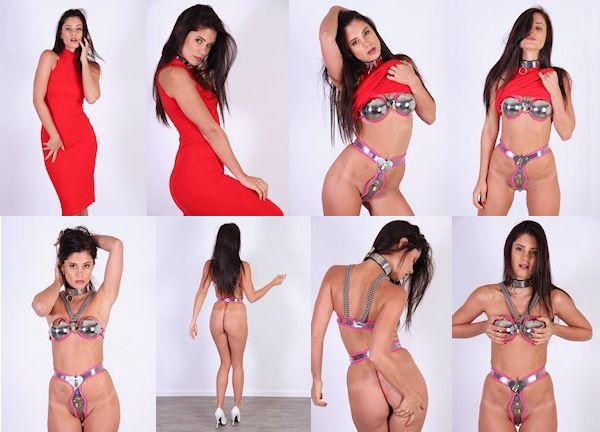 Little Caprice is back! And I genuinely wonder why she keeps coming back. She is one of the most popular models in the world, with her own fan base and website, and she does not shoot any fetish or bondage with anyone else. Still, she comes back to Holland once in a while, even though she KNOWS she will be belted for her stay.
Caprice can never stay long of course, so long Chastity Deals are never possible, but a weekend is already a lot of fun with this girl, especially since she is so horny all the time. Minutes after being locked in the belt, she tries to persuade me that it has been long enough because she can't touch herself and apparently she touches herself all the time during the day. Believe me, it is hard to resist those huge eyes and funny one liners that Caprice uses to get her way.
But I'm keeping the keys in my pocket, because I want to test her AND the new belt I have locked her in. It is the cutest belt ever, with pink lining and a heart shaped locking plate! The fit is more ergonomical on the hips and it has a coated wire at the back. This style looks amazing on Caprice, one of the most gorgeous girls on the planet today. Of course, I also had to add a pink bra, because Caprice can actually arouse herself by playing with her nipples. The bra is very tight and Caprice can only take 'half breaths' as she tells me, but it is necessary to stop this naughty girl from touching herself all the time.
The collar completes her outfit, but I did not even lock that onto her. She did that herself, because she loves that one so much. She would wear it every day if she could. But the belt and bra… that would drive her insane. Let's see how long I managed to keep her in this gear, with all the charming and begging going on it was going to be hard for both of us!!