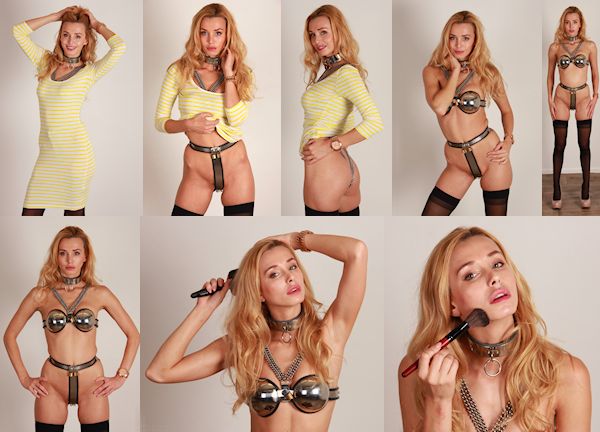 Dominique! I don't think many people here will remember her original Chastity Deal, with her mother! What a crazy adventure that was, many years ago. Go and watch it if you haven't, but make sure to watch it in chronological order, it's an amazing journey!
Dominique has become a very good friend, and she has transformed into an amazing and inspiring world traveler and animal activist. She also became more and more gorgeous over the years, she is a really stunning woman now, with an amazing body! She always had that of course, but she has only become more beautiful over the years! Whenever she visits Holland on one of her many journeys, she always messages me to see if I have time for her. Of course!
She knows she will be locked in her chastity belt, and she probably still misses the belt on some subconscious level. Her double padlocked chain style belt became part of her during the long Chastity Deal that was initiated by her mother. She is one of the easiest girls to belt, she simply puts it on herself right after she comes in, like a kind of silent Deal we have. This time I laid out a belt, bra, and collar, and she locked them all on without asking.
Dominique genuinely loves the feel of being locked, as some of you know, since she did quite a few meet & greets with fans in the past. She is still available for meet & greets, and you can always email me to set something up. I love having her around in the studio, she just is so comfortable in her gear, doing her makeup and hair in front of our mirror cam… it's good to have her back. She probably won't do any Chastity Deals anymore, but locking her up occasionally is still great fun!