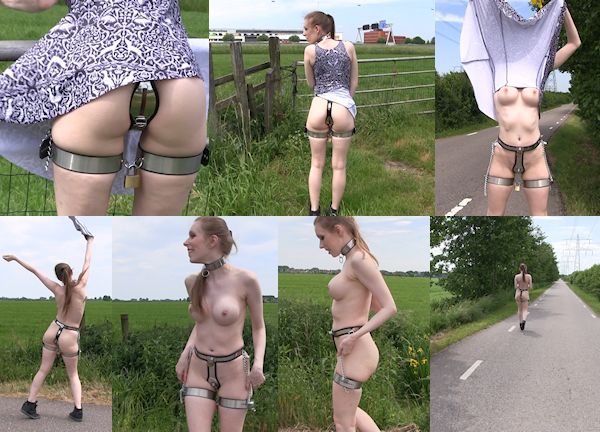 Cobie is insane! But that's why I like her :) When we went outside for a little fresh air, she wanted to feel the wind on her skin and be free!! Well, as free as she could be, of course she was still locked in her NeoSteel chastity belt, her thigh bands, and her collar. There were a lot of cars passing by, people on bikes, runners, and people walking their dog. It always seems to get very busy wherever I take a Chastity Babe… maybe people sense there is something going on? Well, in Cobie's case, there sure was a lot to see! She kept flashing her belt, front and back, in her very short summer dress. I am sure many people got a glimpse (again). I wonder if anyone actually knew what it was, but the sun reflecting on the metal draws the eye to it so they couldn't have missed it.
Then Cobie got even more crazy: she actually TOOK OFF her dress! We were outdoors, many people around, right next to a highway where many cars were passing by. Cobie said she never felt so free in a chastity belt! She was a bit worried someone would suddenly appear (in Holland, people on bikes come from nowhere), but she couldn't help herself. She just wanted to feel free and go crazy: totally naked outside in her chastity belt!
Yes, Cobie is very crazy! I love it. She has courage and she loves a challenge and a dare. I think she got fully used to the belt and it was a great thing to see her so free and happy. Maybe it was the mental effect a chastity belt can have on a girl? She really seemed more happy and outgoing. This is why all girls should be in chastity all the time! Even though the first few weeks can be hard, it always has a positive effect in the end!